Overview/Approach
At Kadimah, we teach students—not subjects—giving them the skills of life-long learning.
Kindergarten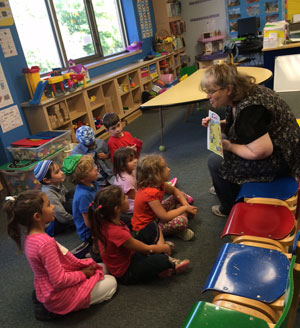 Kadimah's Kindergarten serves as the ideal bridge from Preschool to Elementary School, striking that perfect balance between play and academics. Like the Preschool, the Kindergarten is hands-on and play-based.  Unlike many Kindergarten programs, which may exclusively lean toward more traditional academics, we also intentionally build time for teaching those intangible but fundamental skills:
voicing an opinion
socializing
asking questions
thinking critically
working in a group
Our curriculum is totally integrated between secular and Judaic subjects. Units are thematic — oftentimes built around Jewish holidays or current events — and skill-building is embedded in every step. Teachers enable children to own their learning, which means many project ideas emerge from the students — not from the teachers.
We are proud of the way our children leave Kindergarten poised to enter 1st grade: confident that they can embrace new challenges, nurtured as individuals, and harboring a love for learning that will enable them to be successful for the rest of their academic careers.
Elementary School
In the Elementary School, literacy is the foundation of academic independence, which is why we place such significance on developing reading and writing skills. Focusing on these elements of Language Arts provides a sturdy foundation for all of our other subject work in Math, Science, Social Studies, etc.
In our multi-age classrooms, children are guided by their teachers each day, allowing them to advance at their own rate. Our teachers are more than just "keepers of knowledge." They encourage students to find answers themselves, and provide them with the tools to do so. Open-ended and collaborative assignments promote independent thinking. Students mentor each other and develop empathy and respect for one another, secure in the knowledge that each is integral to the community. Multi-age and flexible ability groupings mean that the class structure is always in flux, with no student ever stagnating at either the top or the bottom of a class. This promotes humility while still encouraging constant growth. Small class sizes and individualized attention mean children advance quickly.
Middle School
In Middle School, the focus shifts more toward independence. Through hands-on activities, problem-based learning, and seminar-like discussions, students learn to ask good questions and find meaningful answers. Subject matter often transcends the classroom with large-scale projects like debates, mock trials, and historical re-enactments. High test scores, awards in statewide competitions, and numerous other scholastic achievements bear out the success of our approach
And Beyond
Graduates of Kadimah Academy routinely go on to excellent, competitive high schools throughout the city and suburbs, including City Honors School, Nichols School, Park School, Buffalo Seminary, and the Williamsville and Amherst high schools, as well as to yeshivot.
After high school, our alumni attend many of the nation's top academic institutions, such as Columbia University, Harvard University, Yale University, University of Pennsylvania, University of Rochester, Brandeis University, Binghamton University, Northwestern University, Princeton University, Syracuse University, and Yeshiva University, to name just a few.
Kadimah alumni can now be found in a diverse range of careers throughout the world, from medicine and the law, to the corporate world, academia, the rabbinate and Jewish communal service.