Kadimah Students Help to Honor Six Holocaust Survivors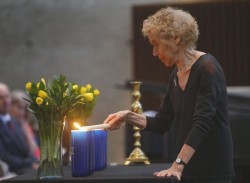 This past Sunday marked 71 years since the end of World War II and the liberation of the concentration camps, when the full extent of the horrors inflicted by Nazi Germany on European Jewry became known to the world. Holocaust survivors and hundreds of community members made their way to Temple Beth Zion to commemorate the 6 million Jewish lives lost in this tragic event in history.
Six survivors, and proud members of the Jewish community, shared their stories and Holocaust memories as they lit one candle each, in front of the crowd. Following the ceremonial candle lighting, a group of five sixth- and seventh-graders from Kadimah Academy sang "Blue Tattoo," from a recent documentary by Rich Kellman and photographer Marty Kerker. Kadimah students were among a few other Jewish youth groups present to honor the lives of those still with us and those who are not, resulting from the Holocaust.
Read the complete Buffalo News story, that ran on Sunday May 1, here.
Categorized in: News